Titusville Resort & Destination is a redevlopment mixed use project covering 22 acres on US 1, facing Cape Canaveral. 
The property on the first phase will have 240 apartments in a seven story building with one hundred independent senior living (age restricted 62+) in a six story building facing Country Club Drive, with 20,000 sq ft retail spaces on the ground floor. A club house and courtyard pool would be build in the middle of the complex. Two restaurants facing US 1 and Cape Canaveral will be on the out parcel. 
The property on the second phase will have a six story Cambria hotel with 153 rooms with 4,000 square feet built on the east side of the hotel. The hotel will have an outdoor pool and 8,000 sq ft of observation deck. 
The third phase commercial portion with 110,000 square feet would be facing Hopkins Avenue on the west side of the property with uses such as retail, offices, and medical.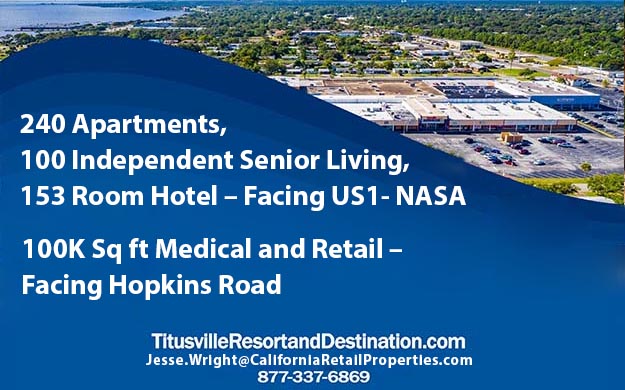 Titusville Resort & Destination
Space Coast Luxury Living (SCLL)
On the first phase, Titusville Resort & Destination will have one hundred and fourteen (114) one bedrooms, eighty four (84) two bedrooms and forty two (42) three bedrooms. A total of thirty six (36) penthouses with high ceilings are included. 
The sizes of the apartments ranges from 900 to 1,600 Sq ft with balcony and work space. There will be an onsite management and fully security, seven (7) days a week on site. 
Apartments will have balconies and view to the courtyard and or Indian River. A gym and banquet room for weddings and functions will be provided to the residents in addition to accessing an observation deck to watch the rockets.
Space Coast Senior Living (SCSL)
The independent senior living will have twenty (20) studios, sixty (60) one bedrooms, and twenty (20) two bedrooms. There will be twenty (20) penthouses within the project. All units will have balconies.
There will be an onsite management and full security, seven (7) days a week on site.
Residents will have amenities such as community room, hair and nail services, lounge and library, cinema and access to observation deck to watch the rockets.
Phase 2 of the project that could possibly be built along with phase 1 would have a 90,000 sq ft – five (5) story "Cambria Hotel" with 153 rooms with 4,000 sq ft attached restaurant facing Indian River.
A 5,000 sq ft of sit down restaurant with rooftop and a 3,000 sq ft of drive through will be placed facing US 1
Phase 3 of the project will have 110,000 sq ft of medical, offices, and retail and the seniors and residents can take advantage of the medical facilities and shopping in the second phase.
Two boxes of retail, one at 10,000 and another at 20,000 sq ft of retail facing Hopkins Ave are pre-leased. In the back a two story building with eighty thousand (80,000 sq ft) will be built after the demolition of the 2nd phase of the mall.
The generated Foot Traffic is at
approximately 1,500+ a day.
We Are Looking For National
Tenants Such As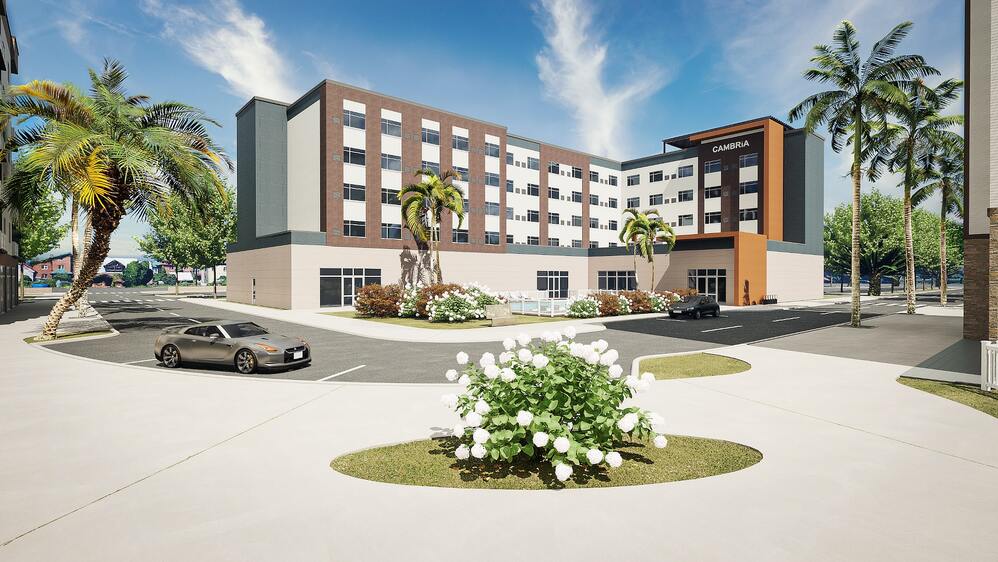 Completion Of The Residential And Part Retail By Mid 2023 As The Project Will Move Forward In Three Phases
Residential
The property on the first phase will have 240 garden style apartments and 100 senior living with an approximate square foot of 400,000 with a club house and courtyard, pool, and two restaurants on U.S. 1 facing Cape Canaveral. Read more Phase 1
Hospitality
On 2.45 acres with 90,000 sq ft, six (6) story high with an observation deck and 153 rooms with Cambria Hotel it will be facing U.S. 1 with full visibility of Cape Canaveral, NASA, SpaceX, Boeing, and Blue Orgin. Feasibility has been completed. During the construction of the first phase, the mall will still be operating.
Read more Phase 2

Commerical
On 10 acres on the northwest corner of Country Club and Hopkins with individual buildings covering approximately, 110,000 sq ft of medical, offices, and retail. During the construction of the first phase, (easterly portion), the westerly portion of the mall will be in operation. We are looking for commercial, retail, offices, and medical tenants that can take up from 2,500 to 20,000 sq ft.
Read more Phase 2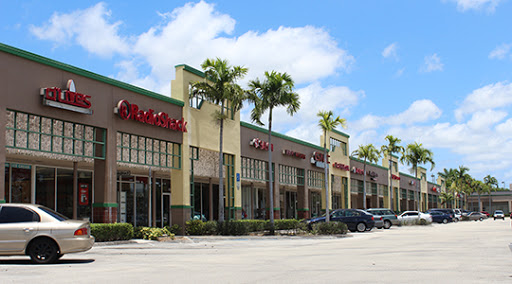 Existing Titusville Mall (formerly Sears Town Mall) is a 260,000 Sqft community mall situated on a 22 Acre land facing HWY 1 / U.S. 1 in Titusville Florida. Titusville is the fastest growing city in USA mainly due to "Space Program."
We are looking for developers, financiers and partners